Democratic Gov. Bev Perdue and top administration officials flew to Pennsylvania last week to examine drilling rigs used for shale gas extraction, a controversial practice known as fracking.
The March 5 trip occurred without public notice from the governor's office and included meetings with oil company representatives and local government officials who support fracking. (Perdue's office does not release a regular schedule like other state chief executives.) The governor did not visit with local environmental groups on the trip but her spokesman said she met days prior with Sierra Club and Environmental Defense Fund officials in North Carolina.
The trip was organized by Jon Williams, the assistant secretary for energy at the N.C. Department of Commerce, in consultation with John Hanger, the former secretary of the Pennsylvania Department of Environmental Protection. Hanger is a shale gas drilling supporter who works as an outside consultant. (Environmental advocates criticized Republican lawmakers for taking an industry-driven trip in late 2011.)
The governor's office did not provide an itinerary for the trip but said Perdue and the N.C. delegation received a briefing from Shell Oil and a tour of Shell's operations in Tioga County before attending a roundtable with state and local officials at Mansfield University. The delegation -- which flew on the state plane in a up-and-back trip -- included Department of Environment and Natural Resources Secretary Dee Freeman; Kari Barsness, the DENR legislative liaison; Williams; and Nina Szlosberg-Landis, a member of the Department of Transportation board and a major Democratic donor that Perdue's office said is "well known in the environmental community."
Perdue's office said Hanger, a Duke University alumnus, invited the governor to tour the shale gas operations in Pennsylvania during his recent visit to North Carolina. A spokesman said Perdue "is trying to learn more about this process and the impact it would have on the state." Perdue has said she supports fracking if done safely. But environmental advocates have championed her veto of a GOP-backed energy bill to pave the way for fracking in North Carolina. She rejected the legislation on narrow constitutional powers grounds.
A local report from Pennsylvania about the governor's visit said Perdue also met with representatives from Chesapeake Energy, the same company that gave Republican lawmakers a tour. The governor's office only acknowledged the trip after Dome inquired about the local newspaper article.
According to the report, a local commissioner said Perdue and the N.C. delegation "were curious about the water and how it is affected and handled and how the community adjusts, as well as how the industry has affected the businesses or economy. "It is evident by the low unemployment numbers here and in Bradford County that it is a good thing," the commissioner told the paper.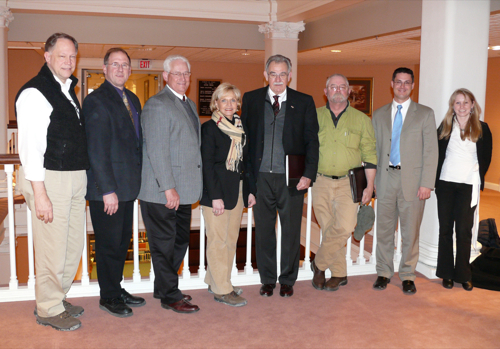 (Photo from The Wellsboro Gazette.)